The Hollands grew up at completely opposite ends of the country—Elva in Prince-Edward Island and William (Bill) in British Columbia.
At age 15, Elva and her family left the island to relocate to Montreal, where she landed her first job at a theater candy bar. A year later, she started her career at Bell Canada, where she would spend the next 33 years as a loyal bookkeeper.
Bill followed in his father's footsteps. He joined the Royal Canadian Navy at age 16. After a rewarding 30 years of service, he went to work at Saint John Shipbuilding in New-Brunswick to eventually end up back on the ships as an engineer.
In 1976 fate brought them together. Actually—the Summer Olympic Games did! Bill was on one of the ships posted in Montreal to ensure harbour security during the world event. "Divers would go and scan the waters in the harbour each day," he recalls.
It was a Monday evening when Elva received a call from one of her girlfriends. She was going to visit one of the ships in the harbour and didn't want to go alone. "No, it's Monday night. I have to work tomorrow!" Elva's told her friend. "After I hung up, I started feeling sorry for her, so I called her back and told her I'd pick her up," she adds. Little did she know, that phone call would change her life forever.
That evening, as Elva boarded the ship, there he was—her knight in shining armour—bartending for the guests. "I only serve doubles," Bill said upon laying eyes on her. "Well, I'll try one," Elva quickly replied. And that was the beginning of their enduring love story.
Shortly after meeting, they both ended up being transferred to Ottawa, where they pursued their career. After living on the military base for a year, they purchased a house in Orléans.
At some point, Bill started experiencing health issues, one of which landed him in the hospital. Unable to diagnose his condition after 25 days, the hospital sent him back home. His return was short lived since Elva had to call an ambulance the next day. This time, Bill was brought to Montfort, where his health problem was immediately diagnosed and adequately treated.
"If it wasn't for Montfort, I don't know where he'd be," says Elva. The success of the Montfort team in managing Bill's various health issues over the years is what inspired this lovely couple to become proud donors of the Montfort Foundation. "They're so innovative in what they do that you just know they're going to continue to advance," says Bill. "We support Montfort because when we needed them, they were there for us. So now, we're giving back."
Bill's heart health also deteriorated in his late 60s, forcing him to undergo open heart surgery—twice. Since no resources were available in the region to support those affected by heart problems, Bill and Elva founded the Ottawa Heart Support Group. This volunteer community support group quickly became their passion, keeping them connected with their community. Today, the group attracts the brightest minds in the medical field to present at monthly group meetings, including Montfort physicians and cardiologists.
Over the years, Bill and Elva have forged strong relationships with staff at Montfort and could not be happier with the health care and services they have received in English—their language of choice. "Everyone at Montfort is bilingual and so professional. It doesn't matter who you deal with: the clerks, the nurses, the doctors. The staff members always recognize us and welcome us with open arms and that means a lot to us," says Bill.
Now in their 80s, the Hollands claim the secret to a long and happy life is to stay busy, remain active, get involved, forge friendships, do things you enjoy doing and give back to others.
Today, the love that ignited on a Navy ship all those years ago is still going strong.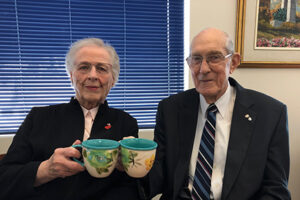 Thank you, Mr. and Mrs. Holland, for sharing your love through your outstanding generosity and for making a real difference in the lives of so many people at Montfort and in our community.