Community is at the heart of Montfort. It is also at the heart of your fundraising.
Learn more about organizing a fundraiser for the Montfort Foundation.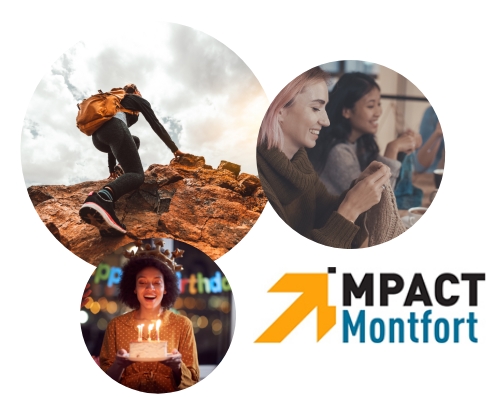 Put Your Personal Interests to The Challenge!
Since philanthropy is how Montfort achieves excellence, we have created the Impact Montfort platform – an innovative and fun tool that allows you to create a challenge that reflects your personality and personal interests – for the benefit of your hospital!
Whether you are a family, a couple, colleagues, friends, community or solo, all you have to do is set a fundraising goal and mobilize your network to either participate or donate to support you in achieving it.
How do you create a fun challenge?
Think of a challenge that will allow you to have fun! Impact Montfort allows you to create a challenge that reflects your personality and personal interests, while raising money for a great cause.
Whatever your challenge is, make sure your goal is realistic and that you'll have a lot of fun doing it!
Here are ideas for fun challenges…
Birthday Challenge: Donate your birthday to Montfort by asking your supporters to donate to your challenge rather than offering you gifts.
Walkathon, Rockathon, Dance-a-Thon: Whatever your preference, commit to doing this activity for a pre-determined period of time.
Hiking Challenge: Alone or in a team, go hiking in the Gatineau Park or your favourite spot in nature.
Climbing Challenge: Climb the mountain of your choice, be it Mont Tremblant, Mount Washington, Mount Kilimanjaro or Mount Everest!
Biking Challenge: Form a team whose members will pass the torch over a 24-hour period.
Reading Challenge Commit to reading for a pre-determined period of time on a new subject that has intrigued you for a long time.
Cooking Challenge: Commit to cooking a gourmet dish for your most generous challenge supporters.
Sewing/Knitting Challenge: Commit to knitting, crocheting or sewing a comfort blanket for a patient hospitalized at Montfort.
Extreme Challenge: If you're a thrill seeker, commit to bungee jumping or parachuting!
Paddleboard Challenge: Form a team whose members will pass the torch to remain on the water for 12 hours.
Meditation Challenge: Form a team whose members will pass the torch to meditate non-stop for a predetermined period.
Your idea, your challenge!
How to promote my challenge?
Impact Montfort allows you to collect donations without any administrative fees, thus allowing Montfort to benefit from the entire amount raised. The platform also displays the amounts collected in real time.
To help you succeed, here are a few strategies to put into practice to promote your challenge:
Word of Mouth: Tell everyone you know about your challenge and talk about it as often as you can. Word of mouth is a very effective way to share your message.
Social Media: Share your challenge on Facebook and/or Twitter by simply clicking on the icons that appear on your challenge's home page.
Hashtag: Use the hashtag (# symbol) in front of a word or series of words to create a click-word that allows people to follow conversations about your challenge.
Participants : Encourage those who participate in your challenge to use the click-word, post photos and share their experience.
Montfort Foundation: Notify the Montfort Foundation of your Facebook posts so we can share them with our network.
Tax Benefits: Inform everyone you talk to about your challenge that the Montfort Foundation issues an official income tax receipt for donations of $20 or more.
Recognition: how appreciation to those who support your challenge. Send them regular updates that include the financial objective and the amount of donations received.
Portal, Snapshot, Montfort Journal: If you work or volunteer at Montfort, write a short article to promote your challenge to your colleagues.
Are you ready to mobilize your family and friends to take up your challenge? The Montfort Foundation will be happy to help you promote it on its social networks, upon request.
If you have any questions, do not hesitate to contact us.