This commitment supports the Health Hub's integrated health care programs in Orléans.
Today, Montfort representatives Dr. Bernard Leduc, CEO of the Hôpital Montfort, Yves Tremblay, President of the Hub Fundraising Campaign Cabinet, Robert Rhéaume, Chair of the Montfort Foundation Board of Directors, and Marc Villeneuve, its President & CEO, welcomed the Taggart-Parkes family to the Aline-Chrétien Health Hub – Orléans to attend the unveiling of a plaque recognizing their exceptional generosity.
In December 2009, representatives of the Hôpital Montfort, including Dr. Bernard Leduc, and of the Montfort Foundation, including the President and CEO at the time, Ms. Christine Sigouin, received the Taggart family's support for the fundraising campaign for the construction of the Aline-Chrétien Health Hub – Orléans. This community support allowed the Hub to come to Orléans as the Taggart family owned the land on which this innovative building stands today.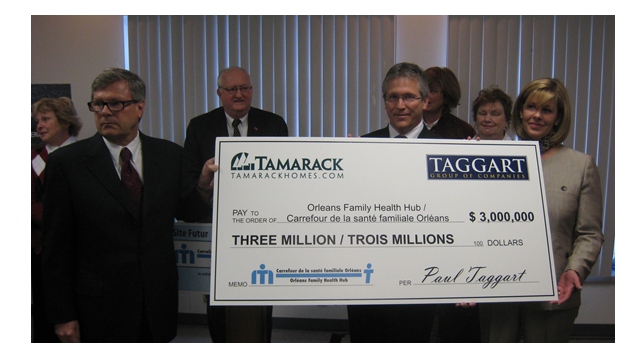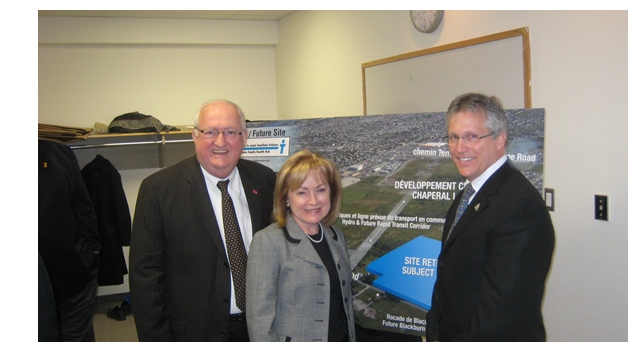 "For nearly 75 years, the Taggart Group of Companies has proven to be a pillar in the region for building sustainable communities. The Aline-Chrétien Health Hub Orléans project is an important one because it shares our organization's values in a significant way," said Scott Parkes, a member of the Taggart Group and president of Tamarack Homes. "It is also a successful project because it meets our needs as a real estate developer and Montfort's needs in terms of supporting the various health care needs. What a win-win association!"

For Robert Rhéaume, "having the support of such an influential community partner as the Taggart-Parkes family had a major impact on the campaign's success. It was really the pillar of this campaign. Without the Taggart-Parkes family, the Eastern Ontario community would not enjoy the benefits of such a health facility."

Thank you to the Taggart-Parkes family for actively engaging with the health of our community and inspiring us with their generosity.
---
The Aline-Chrétien Health Hub Orléans is a Montfort led partnership with Bruyère, Youth Services Bureau of Ottawa, Children's Hospital of Eastern Ontario, Eastern Ottawa Resource Centre, ParaMed, Ottawa Public Health, Geriatric Psychiatry Community Services of Ottawa and Home and Community Care Support Services Champlain. For more information on the Orléans Health Hub, its public fundraising campaign and to make a donation,visit