The Montfort Foundation has been published in the Ottawa Business Journal's (OBJ) Giving Guide magazine for several years to promote its mission, objectives and services to the region's business community.
Ottawa Business Journal (OBJ) is an English-speaking, independently owned media organization in Ottawa, Ontario, owned and operated by Great River Media Inc.
OBJ is the leading source of business news and information in Canada's national capital region. For more than 25 years, readers have turned to OBJ for the business news they can't find anywhere else – unique and relevant articles and features tailored to local business managers, owners, professionals and executives. Since its inception, OBJ has engaged its audience through a variety of platforms, including its quarterly newsmagazine, specialty magazines, events, digital and broadcasts.
The content is available only in English.
Current edition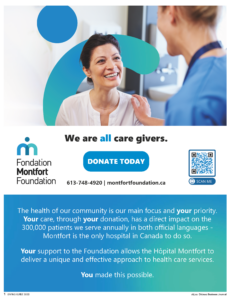 Previous editions