The Montfort Foundation presented the 2023 edition of its fund-raising golf tournament on a beautiful day, filled with sunshine, smiles and good spirits. The tournament is a firm favourite with the local business community and friends of Montfort.

Once again, 206 players of all levels competed at the magnificent Greyhawk Golf Club in Cumberland, where the goal was to accumulate donations to help the Hôpital Montfort achieve its mission and objectives. This year, the Foundation's staff and a dozen volunteers worked passionately to ensure the success of this historic tournament. To this, Marc Villeneuve, CEO of the Fondation Montfort proudly says: "it's mission accomplished!"

Indeed, this edition raised a record $159,585! This historic sum was raised as part of the tournament to mark the retirement of Dr. Bernard Leduc.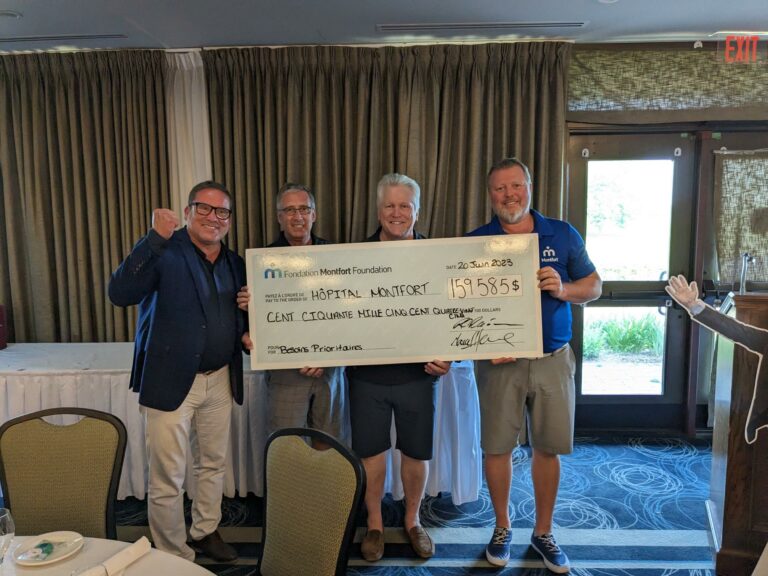 "After more than 20 years at Hôpital Montfort, it's high time to return to one of my passions and work on my handicap." – Dr. Bernard Leduc, President and CEO, Hôpital Montfort
In recognition of all the hours he had worked for the well-being of his community, the Montfort Foundation renamed the tournament the "Dr Bernard Leduc Annual Classic", a nomination that surprised and moved him.
The traditional live auction, once again hosted by the colorful Mr Ronald Caza, was a dynamic event that brought energy to a generous audience. Gift packages donated by generous local businesses raised a total of $5,625. 
Another highlight of the tournament was the presentation of donations by Mr. Albert Lefebvre of Acc Par Systèmes Limited, who has made Montfort his annual priority for a number of years. This year, Mr. Lefebvre accumulated a total of $58,500, which Dr. Leduc gratefully accepted on behalf of his hospital.
It wasn't just the Foundation and the Hôpital Montfort that came out on top, but the golfers too. Among the winners in the various categories, Lucie Thibault, a member of the Hospital's Board of Directors, won the 50/50 draw worth $932, and chose to donate part of her prize – $500 – to the Foundation.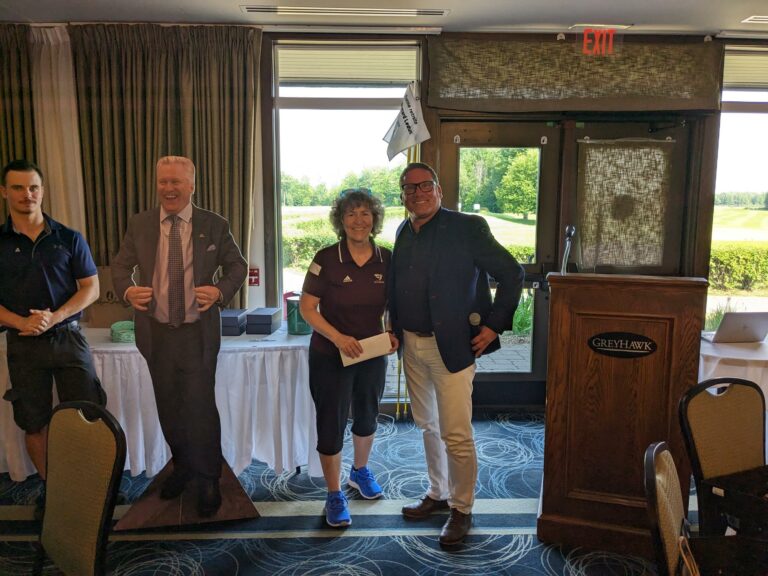 Like every year, this golf tournament is an opportunity not only to support the health of the community, but also for golfers to take time out and enjoy each other's company in a fun setting where laughter abounds. For this year's event, the Foundation team used their imagination to mark Dr. Leduc's retirement, as evidenced by his life-size photo. The 2D version of Dr. Leduc was almost as popular as the real one!
The Montfort Foundation would like to extend its warmest thanks to everyone who helped make the tournament a success, and wish Dr. Leduc a well-deserved retirement.