Take a moment to imagine yourself in this situation:
You are a young woman who, along with your husband, have recently left your country of origin, family and friends in hopes of building a better life in Canada. You don't know anyone, you're pregnant with twins and you only speak Arabic.
Such uncertainty is the reality for thousands of newcomers.
It was almost midnight on the evening of June 30, 2016, when the staff of the Montfort Family Birthing Centre (FBC) made every effort to ensure the well-being of such a family. I will always remember how palpable the father's joy was.
"We are so grateful to have been able to give birth at Montfort," says Mr. Al Sultan. The staff had taken the necessary steps to be able to serve us in our mother tongue. Since one of the twins required prenatal care, it allowed us to understand what was going on and find some comfort," he adds. "For us, this gesture meant 'we are happy to have you here' and we were so touched by it. There could not have been a better way to celebrate our very first Canada Day than by welcoming our twins in such a caring environment."
For the past fifteen years, I have been working at the Montfort FBC—a centre of excellence in a unique setting, where more than 3,000 newborns take their first breath each year. The group of five medical specialists I was part of in 2004 has since evolved into a high-performing interdisciplinary team of more than 50 health professionals, including obstetricians and gynecologists, pediatricians, midwives and family physicians, not to mention the nursing staff.
Our highly collaborative approach allows us to offer various models of care and respond more effectively to patients' needs. These include an on-site obstetrics and gynecology on-call service, a brand-new midwifery home care program and a consultation clinic for expecting and new mothers. In addition, our state-of-the-art equipment allows us to provide prenatal care from 34 weeks of gestation.
The FBC also plays a leadership role in teaching at Montfort, which makes me very proud. We are training the next generation of health professionals by welcoming many Francophone residents in medicine and obstetrics-gynecology. Our postnatal education also received recognition from Accreditation Canada as a best practice. In addition to meeting all the performance indicators set by the province, the FBC continues to win awards of excellence for innovative and safe patient care.
But the FBC is only one example among many others of the exemplary care offered at Montfort. It is thanks to the generosity of people like yourself that the hospital can acquire the essential equipment needed to provide quality care, modernize its facilities, train the next generation and support research, to finally get recognized as a leader.
Each donation—no matter the amount—has a direct and immediate impact on patient care. That is why I invite you to donate to the Montfort Foundation.

Dr. Anne Gravelle
Obstetrician-Gynecologist
Montfort Family Birthing Centre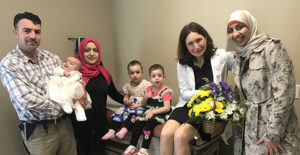 The Al Sultan family with Dr. Anne Gravelle and interpreter Sabreen Abu-Zeyada