At an event held at City Hall on June 18, His Honour Jim Watson proudly presented the key to the City of Ottawa to Ronald F. Caza, partner at the boutique litigation firm Caza Saikaley LLP and chairman of the Montfort Foundation board of trustees.
This distinction is added to the several others received by the native of the small Franco-Ontarian village of Chelmsford. In addition to receiving the Order of Merit from the Association des juristes d'expression française de l'Ontario, an honorary degree from Collège Boréal and an honorary doctorate from Laurentian University, Mr. Caza was also awarded the following honours:
2012 – Mr. Caza is selected by his peers to be on the Benchmark Canada list of the "Best Lawyers in Canada" for institutional and commercial litigation.
2015 – Benchmark Canada identifies Mr. Caza as one of the province's leading litigators.
2016 – Mr. Caza is awarded the prestigious medal of the Ontario Bar, which is given to him for his outstanding service.
2017 – Mr. Caza is awarded the Order of Ontario, the province's most prestigious award, for his outstanding personal and professional excellence.
2019 – Mr. Caza receives the key to the City of Ottawa
We offer our most sincere congratulations to the chairman of our board of trustees on his most recent tribute. We are proud to have the opportunity to work alongside him to enable the Montfort Foundation to pursue its mission.
Read the media coverage (in French):
Le Droit
ONFR+
Metro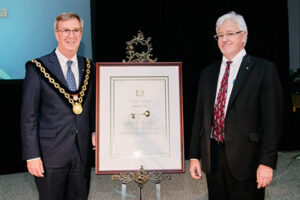 City of Ottawa mayor, His Honour Jim Watson (left) and Ronald F. Caza (right)
Photo credit: City of Ottawa