How to describe Marie-Josée Martel in one word? The first one that comes to mind is: passionate! With a positive attitude and contagious enthusiasm, this warm and engaging woman knows how to spread cheerfulness and grab the attention of her audience.
Marie-Josée has a strong bond to our organization. She was born at Montfort, received care at Montfort, made donations to the Montfort Foundation, was a member of the Montfort quality council and now sits on the board of directors of the Hospital and the Foundation.
Having worked in various federal departments, she has acquired extensive experience in service delivery and has devoted much of her career to improving services to Canadians. "I'm passionate about service," she says. "I'm curious and I go to the source to identify gaps and the most important drivers of satisfaction. Then, I use what I've learned to transform environments and improve services for citizens. »
In 2000, Marie-Josée participated in the creation of the Institute for Citizen-Centred Service (ICCS), an organization that brings together all levels of government and conducts research on client satisfaction and the improvement of public services to citizens and businesses.
She took a well-deserved retirement in 2010. A few months later, she had an accident and suffered multiple fractures. It was then that she received excellent care and services at the Montfort orthopedic and physiotherapy clinics.
"I was so grateful for the care I was receiving and wondered: What could I do to help? And that's when I learned that Montfort had a foundation. So, I became a donor and designated my first donation to the physiotherapy clinic," she says.
"Later, when I was asked to join the Hospital's quality council, I immediately agreed. It allowed me to witness the commitment of men and women at Montfort, who not only dedicate themselves to providing quality services, but also demonstrate a willingness to learn so they can continue to improve. »
As an ICCS associate, Marie-Josée continues to work by facilitating training that leads to certification and designation for both front-line and management service delivery professionals. "I have always dreamed of seeing employees who provide services to citizens get recognized as the professionals they are. »
Marie-Josée thus satisfies her thirst for learning and her deep passion for knowledge sharing. She also takes the opportunity to build strong and meaningful relationships with people in all provinces and territories, which explains her extensive professional network.
Despite some obstacles along the way, she continues to have an impact in many Canadian communities. As you can see, it will take much more than a few fractures to prevent Marie-Josée Martel from living a rewarding life filled with passion, discovery, learning and exceptional client services. What a joy it is for the Montfort Foundation to have her on its team!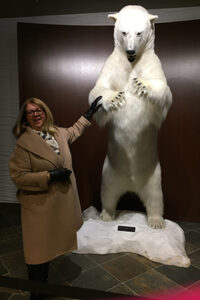 Photo: Marie-Josée at one of her training sessions in Yellowknife, Northwest Territories.