This morning, we had the pleasure of welcoming two representatives of the Knights of Columbus of Alfred, Mr. Richard Villeneuve and Mr. Alain De Repentigny.
The purpose of their visit was to present us with a $5,000 cheque. This very generous general donation will contribute to improving health care and services at Montfort. Because it is not intended for a specific cause, program or project, the money will be invested where it can best meet the organization's priority needs. One thing is certain, it will have a direct and immediate impact on the lives of many patients and their families.
We sincerely thank the Knights of Columbus of Alfred for their generous contribution. You are men with big hearts and we are proud of the philanthropic role you play in the Eastern Ontario community.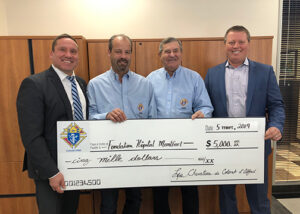 Left to right:
Marc Villeneuve, vice-president, Philanthropy, Montfort Foundation
Alain De Repentigny, grand knight, Knights of Columbus of Alfred
Richard Villeneuve, intendant, Knights of Columbus of Alfred
Carl Nappert, board chair, Montfort