Annual Charity Golf Tournament 2022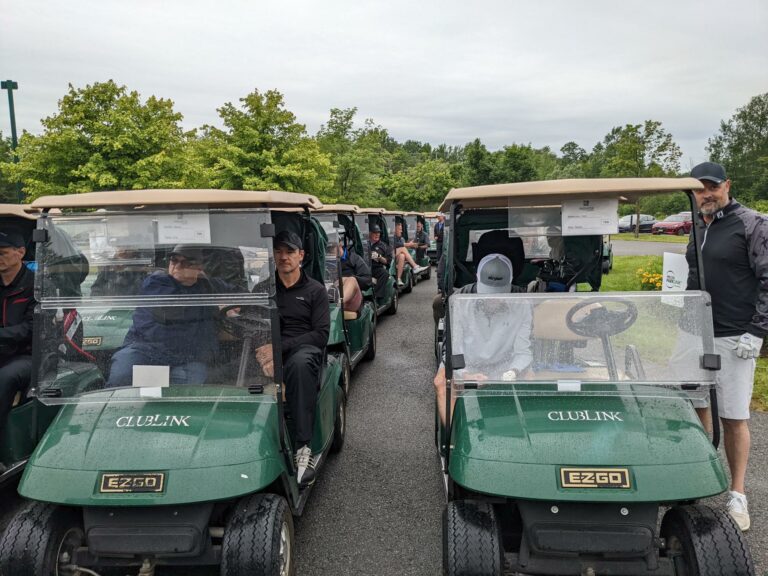 The Foundation team would like to thank all the sponsors, golfers and volunteers who participated in the June 21st charity golf tournament. Thanks to your participation, more than 200 friends and partners of Montfort enjoyed a "100% return to normal" of our annual classic. 
In a social and playful context, human warmth won over Mother Nature and once again, this flagship event was a success, raising a net profit of $130,436 in support of the Orléans Health Hub (OHH). At the end of this day of healthy competition, the Montfort Hospital Medical Imaging Association foursome was crowned champion of the 2022 edition.
As with every tournament, we live moments of great emotion fueled by the generosity of the winners who choose to donate their prize to the Montfort Foundation. Thank you to Mr. Albert Lefebvre who donated $15,000, an amount he personally collected from local businesses in support of our cause. The highlight of the day was the announcement of a historic donation of $1 million from the Desjardins family of the Brigil Group, whose their members were all present. Their exceptional contribution in support of the OHH brings us one step closer to reaching our goal of $12 million. We are now at $10.7 million and if you have not already done so, you can help us cross the finish line by immortalizing your donation with the purchase of a butterfly, bench or tree.
To all our amazing volunteers: Thank you so much for your invaluable collaboration throughout the organization of this event. From start to finish, your help was extremely appreciated and thanks in big part to you, the day ran smoothly and the event was a success. We look forward to your on-going support next year. 
Until then, we invite you to watch the souvenir video, courtesy of Hangar 13.
Thank you to everyone for your commitment to the Foundation and for contributing to its success.  We look forward to seeing you on the greens in 2023!