PRESS RELEASE
For immediate release
Orléans, February 24, 2022— A proud partner and long-time contributor, Desjardins has supported Hôpital Montfort and the Montfort Foundation's fundraising campaigns since its modest beginnings. Once again, Desjardins has answered the call by contributing $250,000, from the GoodSpark Fund, in support of the largest campaign in the Foundation's history in support of the Orléans Health Hub.
This exceptional contribution from Desjardins will allow our community to access comprehensive programs under one roof and close to home. "Montfort has been and will always be a symbol of the vitality of Ontario's Francophone community. Desjardins Ontario Credit Union is very proud to see this new project come to fruition for the benefit of our members and the community," said Stéphane Trottier, Chairman of the Board of Directors at Desjardins Ontario Credit Union. "This is also an important moment to highlight that 25 years ago the community rallied to keep Montfort open and today we are celebrating this victory," added Mr. Trottier.
This significant financial support allows Montfort and its partners to innovate and provide exemplary care and services to the people of Ottawa. From newborns to seniors, clients have access to integrated programs close to home, focused on their needs and available in both official languages.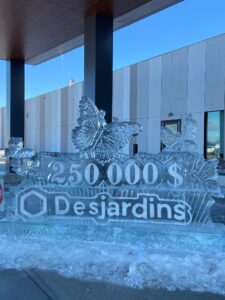 "As our largest corporate donor, having donated more than $1 million in support of Montfort since the 1990's, we are very grateful to be able to count, once again, on Desjardins' historic solidarity. This contribution brings us closer to our campaign goal of $12 million for this unique and innovative healthcare model," said Marc Villeneuve, President and CEO of the Montfort Foundation. To highlight this generous contribution, Desjardins called upon Iraqi artist and sculptor Mowafak Nema to create an ice sculpture located at the north entrance of the Orléans Health Hub, which will hereafter bear the name "Desjardins North Drop-Off Area".
The Orléans Health Hub is a Montfort led partnership with Bruyère, Youth Services Bureau of Ottawa, Children's Hospital of Eastern Ontario, Eastern Ottawa Resource Centre, Hôpital Montfort, ParaMed, Ottawa Public Health, Geriatric Psychiatry Community Services of Ottawa and Home and Community Care Support Services Champlain.
For more information on the Orléans Health Hub, its public fundraising campaign and to make a donation, visit donateohh.com
About the Montfort Foundation
Incorporated in 1986, the Montfort Foundation receives, maintains and manages funds for the development, expansion and promotion of the Montfort Hospital's mission in the areas of health, education, research and community well-being.
To learn more about the Montfort Foundation, visit montfortfoundation.ca
About the GoodSpark Fund
In 2016, Desjardins created a fund and committed to investing $250 million by 2024 in socially transformative projects created by and for the community. Through the GoodSpark Fund, Desjardins awards grants to initiatives that address what matters most to communities, like employment, economic vitality, education and the environment. So far, the GoodSpark Fund has supported more than 600 initiatives.
About Desjardins Group
Desjardins Group is the largest cooperative financial group in North America and the fifth largest cooperative financial group in the world, with assets of $391 billion. It was named one of Canada's Top 100 Employers by MediaCorp. To meet the diverse needs of its members and clients, Desjardins offers a full range of products and services to individuals and businesses through its extensive distribution network, online platforms and subsidiaries across Canada. Ranked among the world's strongest banks according to The Banker magazine, Desjardins has one of the highest capital ratios and credit ratings in the industry.
-30-
Source and information:
Nicolas Séguin
Communications Advisor Manager,
Desjardins Ontario Credit Union
1 833-337-5668, ext. 7220070
nicolas.t.seguin@desjardins.com
Yamil Coulombe
Communications and donor relations
Montfort Foundation
613-746-4621, ext. 2037
yamilcoulombe@montfort.on.ca