Last February, four members of the Cardiovascular and Pulmonary Health Service (CPHS) team attended a symposium on cardiorespiratory rehabilitation in Quebec City—the only conference of its kind held in French.
"Between the four of us, we covered all the workshops and presentations offered at the symposium. It allowed us to validate our approaches, increase our knowledge and develop new strategies," says Robert Guay, a registered nurse at Montfort for the past ten years.
The training covered a wide range of cardiopulmonary rehabilitation topics such as diabetes, polypharmacy, sleep, home-based oxygen therapy, tobacco harm reduction and high intensity interval training, just to name a few.
"We learned about new drugs that help people with diabetes to better control their sugar levels. It helps them reduce the risk of hypoglycemia and cardiovascular events," says Robert.
Another topic the team benefited from was the myths surrounding the electronic cigarette. Despite popular beliefs that it is harmful and damaging, British studies show that this cigarette is, for some, an effective method to quit smoking. "We have already updated the presentation on smoking cessation that we use in our patient education sessions," says Robert.
Ultimately, continuing education is an essential component of innovation and improvement in health care. It has a direct and immediate impact on patients' quality of life because it allows delegates to apply their new knowledge immediately upon their return to work.
"We do continuous training to improve patient care," adds Robert. "Even though attending conferences is expensive and sometimes we have to invest personal time, it's really worth it. »
Robert and his colleagues received financial support from the Montfort Foundation to attend the symposium. Thanks to the generosity of many donors, the CPHS team is now better equipped to provide safe and adapted care and services to its patients and to more effectively manage chronic diseases.
The team will meet on April 9 for knowledge sharing purposes. "Sharing what we have learned with our other colleagues maximizes the impact of our participation in the symposium, so more patients can benefit from it," concludes Robert.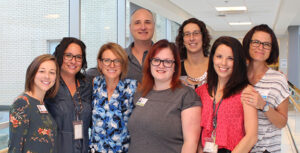 The CPHS team has been recognized several times through the Montfort Angels Program, an award given by patients through a donation, in recognition for their deep compassion, comforting words and profound caring.
Keep up the good work! You are an inspiration to your colleagues throughout the hospital and to the valuable donors who support the care improvement at Montfort.