The Pétrie Island Ice Fishermen's Association (PIIFA) in Orléans presents its annual tournament where several fishing enthusiasts meet on the frozen river, in their warm cabin, to wait for the fish to take the bait in order to unite their efforts and individual treasure behind a common cause. This year, the organizers chose to support the Montfort Foundation, a first for their association and for us as well.
It is following treatments received at the Hôpital Montfort that Allan Macintyre, organizer of the tournament and member of the association, made sure that the proceeds of their activity would be given to Montfort.
"I am very proud of our little group for raising these funds for the Montfort Hospital Foundation, even though we had no choice but to cancel our event entirely," Allan Macintyre, member of the Petrie Island Ice Fishing Association.
Indeed, it is to everyone's misfortune that the 2023 edition of this annual event has been cancelled due to the mild winter that has hit our region this year. Despite this unfortunate situation, the organizers managed to raise $1,590, a much appreciated gift. Mr. Macintyre has already promised that next year's proceeds from the event will once again go to the Montfort Hospital Foundation.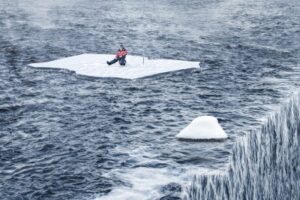 We wish them a completely freezing winter in 2024 so that they can present their ice fishing tournament in ideal and winning conditions!
For more informations on PIIFA: https://piifa.ca/index.html