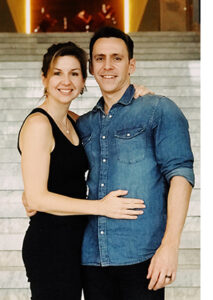 Montfort has among its staff, people for whom recreation activities are sometimes out of the ordinary. An excellent example is the challenge Dr. Joanna Bostwick, an emergency physician at Montfort since 2013, is getting ready to tackle.
In the winter of 2020, Joanna and her partner, Doug Stewart, will head to Tanzania with the goal of reaching the top of Africa's highest mountain—Mount Kilimanjaro. The couple has planned this epic adventure to celebrate a milestone in Doug's life, his 40th birthday.
You will agree that such a journey is not for faint of heart. It is a climb that will generate strong emotions, test their ability to manage the risks Mother Nature has to offer and allow them to overcome many physical and psychological challenges.
"You only turn 40 once and we wanted to celebrate it in a big way! "says Joanna.
In addition to being passionate about her work, Joanna also has a strong desire to help others and give back to her community.
"We wanted to embark on an adventure that would provide us with a unique experience while also allowing Montfort patients to benefit. That's why we decided to create the Kili at 40 challenge on the new Impact Montfort platform. This way, our family members, friends, colleagues and everyone else in our networks can celebrate Doug's birthday with us by helping us achieve our financial goal for this expedition," she adds.
Joanna and Doug will dedicate all donations raised through their online fundraising efforts to meet the priority needs of the Montfort Emergency Department, thus contributing to the sustainability of exemplary care in our beautiful academic hospital.
"For us, there is no better way to celebrate turning 40 than by making a difference in our community," she concludes.
To help Montfort provide exemplary emergency care to the community, support Dr. Bostwick's challenge by making a donation.
In January 2022, Dr. Joanna Bostwick was the guest of Claude Andréa Bonny, host of Rogers Television's Entre-Nous, to relive her adventure of climbing Mount Kilimanjaro in the winter of 2020: https://www.rogerstv.com/show?lid=12&rid=5&sid=121&gid=613316
For more information on the IMPACT Montfort program: montfortfoundation.ca/fundraising/impact-montfort